In the News

Former WWE executive Carl Demarco announces TV sitcom with animated lucha libre wrestler El Tabador

Toronto, Feb. 11, 2014 – Koodo has entered into a global rights deal with Camillion Corp., a Toronto-based media entertainment and technology company, for the exclusive use of "El Tabador," Koodo Mobile's award-winning animated pitchman, in media entertainment.

Camillion, led by former World Wrestling Entertainment senior executive Carl Demarco, plans to harness the proven and infectious appeal of El Tabador to launch him far beyond the ads that have made him an icon in Canada. Development work has begun on a half-hour prime time, family TV sitcom that, like the ads, will place a CGI-animated El Tabador in live action scenes.

El Tabador is a tiny, masked "Lucha Libre" wrestler who lives in a giant world. Ever suave and witty, El Tabador's charm has captured the imagination of Canadians of all ages through his gift of gab, his muscle flexing physical comedy and overpowering confidence. For the past four years, he has starred in numerous Koodo advertising campaigns.

The TV series will be the hub of a major global media property with content to be distributed on all digital platforms – online, mobile, video games – plus merchandise and more.

Click here to read more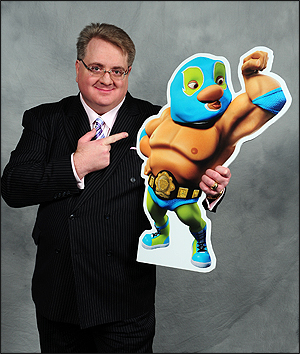 Carl Demarco, former WWE Canada president, developing new TV show

Toronto, Feb. 10, 2014 – KINGSTON, ONT. - For nearly 15 years, Carl Demarco carved out a reputation as a savvy executive, helping build World Wrestling Entertainment into the global juggernaut that exists today.

As president of WWE Canada, Demarco was influential in raising the WWE's profile, first in Canada, and later abroad. He also served as president of Latin America and Chinese Operations and was president of the company's global business development.

Many of his innovations and ideas are still evident in the company today. And many of the groundbreaking deals he helped broker remain in place.

After leaving WWE Canada in 2009, Demarco started Camillion Corp., a Toronto-based media entertainment and technology company. He also fell off the wrestling radar, so to speak.

"I was always in the spotlight when I was president of WWE, and I just wanted to step back from that, and just focus on my business. And really, I figured save it for when I have something to talk (about) — my promoter's hat, which I always learned from Vince," Demarco said during a telephone interview, referring to Vince McMahon, the chairman and CEO of WWE Inc.

Click here to read more






Canadian Ad Character to Get TV Show

Toronto, Feb. 6, 2014 – Canadian phone company Koodo Mobile has entered into a global rights deal with Camillion to bring its animated advertising character El Tabador to a live-action sitcom.

El Tabador is a tiny, masked Lucha Libre wrestler who lives in a giant world. Over the past four years, he has won over Canadians with his gift of gab, muscle-flexing physical comedy and overpowering confidence as he starred in Koodo advertising campaigns.

Click here to read more






Koodo's El Tabador, the wrestler from the commercials, is getting his own sitcom

Toronto, Feb. 6, 2014 – You've seen him skydiving, getting a massage and even shoveling his snowy driveway, but now El Tabador, the tiny Lucha Libre wrestler from all those Koodo commercials, is getting his own sitcom.

The exclusive global rights to El Tabador have been scooped up by Toronto-based entertainment company Camillion Corp., which is headed by former World Wrestling Entertainment executive Carl Demarco. (Perhaps he sees potential in wrestlers of all sizes?) The rights were purchased from Koodo's owner, Telus.

In a press release, Camillion says it has big plans for the miniscule pitchman, including a half-hour primetime sitcom.

Click here to read more





Canadian brand mascot El Tabador to get sitcom treatment

Toronto, Feb. 5, 2014 – For the past four years, the animated icon El Tabador has starred in Canadian mobile phone provider Koodo's advertising campaigns.

Now former World Wrestling Entertainment Canada topper Carl Demarco has inked a deal with Telus Corp. to exploit the Koodo pitchman in other media as part of a global rights deal.

Development work has begun on a half-hour primetime family TV sitcom that, like the ads, will place a CGI-animated El Tabador in live-action scenes.

Demarco's production shingle, Camillion Corp., will start shopping the animated Mexican wrestler as a possible sitcom star at next week's Kidscreen Summit.

Click here to read more





Koodo's El Tabador set to star in a 30-minute sitcom, video games and merchandise

Toronto, Feb. 5, 2014 – Remember when Koodo Mobile launched their wireless service in 2008 and had those 1980′s style retro dancers decked out in neon (see here). It was a good intro and gained attention. However, as all styles fade, Koodo rebranded their image with an outspoken wrestler named "El Tabador." This ad strategy has been funny and well executed.

Now that the El Tabador character has matured it seems there's interest in moving past the 30-second commercial to hit your TV. Carl DeMarco, owner of Camillion Corp. and former World Wrestling Entertainment (WWE) exec, has struck a global rights deal with TELUS (Koodo's parent company) for the exclusive use of "El Tabador" and plans to create a 30-minute primetime family TV sitcom, along with content for online, mobile, video games and merchandise.

The sitcom is currently in development and will feature "live action scenes" about "celebrity lifestyle by living in a mansion with an offbeat entourage, and dealing with guest stars from Hollywood and TV wrestling."

Click here to read more





Camillion Plans TV Series for Koodo's 'El Tabador'

Toronto, Feb. 5, 2014 – Koodo has entered into a global rights deal with Toronto-based Camillion Corp. for the exclusive use in media entertainment of El Tabador, Koodo Mobile's award-winning animated pitchman.

Camillion, led by former World Wrestling Entertainment senior executive Carl Demarco, has begun development has begun on a half-hour primetime, family TV sitcom that, like the ads, will place a CG-animated El Tabador in live-action scenes.

Click here to read more






Koodo's El Tabador to get sitcom treatment

Toronto, Feb. 5, 2014 – Camillion Corp., run by former Canadian TV wrestling exec Carl Demarco, has inked a global rights deal with Telus Corp for the animated pitchman.

Click here to read more (subscription required)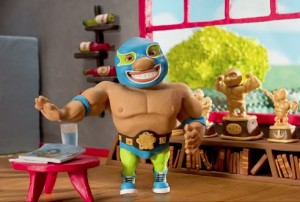 Koodo's El Tabador to get sitcom treatment

Toronto, Feb. 5, 2014 – For the past four years, the animated icon El Tabador has starred in Koodo mobile phone advertising campaigns.

Now former World Wrestling Entertainment Canada topper Carl Demarco has inked a deal with Telus to exploit the Koodo pitchman in other media as part of a global rights deal.

Development work has begun on a half-hour primetime family TV sitcom that, like the ads, will place a CGI-animated El Tabador in live action scenes.

Click here to read more




Koodo's cartoon wrestler mascot lands his own sitcom



Toronto, Feb. 4, 2014 – For almost four years, Canadians have been exposed to mobile telecom brand Koodo's loudmouthed cartoon wrestler El Tabador mostly in 30-second instalments. But will viewers tolerate him for nearly 30 minutes?

A new project is banking on it. Carl DeMarco, former president of global business development for entertainment powerhouse World Wrestling Entertainment Inc. (WWE), has struck a deal with Telus Corp. for the global rights to the lucha libre fighter character. Through his company Camillion Corp., Mr. DeMarco is developing a sitcom starring El Tabador's "celebrity lifestyle," living in a mansion with his entourage.

Click here to read more




Koodo Mobile Signs Exclusive Global Rights Deal for El Tabador, Koodo's Iconic Animated Character, for a TV Sitcom to be Developed by Camillion Corp.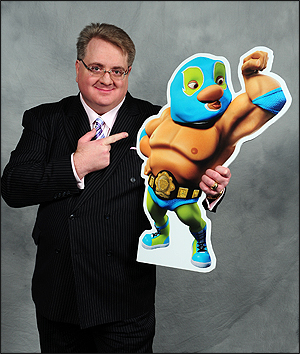 Toronto, Feb. 5, 2014 – Koodo has entered into a global rights deal with Camillion Corp., a Toronto-based media entertainment and technology company, for the exclusive use of "El Tabador", Koodo Mobile's award-winning animated pitchman, in media entertainment.

Camillion, led by former World Wrestling Entertainment (WWE) senior executive Carl Demarco, plans to harness the proven and infectious appeal of El Tabador to launch him far beyond the ads that have made him an icon in Canada. Development work has begun on a half-hour prime time, family TV sitcom that, like the ads, will place a CGI-animated El Tabador in live action scenes.

El Tabador is a tiny, masked "Lucha Libre" wrestler who lives in a giant world. Ever suave and witty, El Tabador's charm has captured the imagination of Canadians of all ages through his gift of gab, his muscle flexing physical comedy, and overpowering confidence. For the past four years, he has starred in numerous Koodo advertising campaigns.

The TV series will be the hub of a major global media property with content to be distributed on all digital platforms – online, mobile and video games – plus merchandise and more.

"El Tabador's character is a natural not only for a TV sitcom, but also for any digital platform," says Camillion Corp. Chairman and CEO Carl Demarco. "He has global, cross-cultural appeal, with humour and charm that will play as well globally as it does with Canadians."

While the show is targeted to a mainstream family audience, Demarco will leverage his strong presence in wrestling circles to take the show to wrestling fans as well.

"This is an excellent opportunity for Koodo to break the traditional barriers of marketing, sponsorship and advertising," says Kevin Banderk, Chief Koodo Officer. "We're excited for the chance to further entrench El Tabador into popular culture."